It turns out that one of the most effective ways to learn how to play the guitar is from the comfort of your own home! On this site, we take a look at the very best (and worst) in online guitar courses. We've written detailed lessons reviews so you'll have all the information you need to make smart, informed decisions. We encourage you to read our full editorial reviews for any course you're interested in.
Recently, we've added a new feature to the site, where users can share their own experiences with any courses we've listed. If you've used any course listed on this site, feel free to send us your own review!
Feel free to bookmark this site if you want to come back at a later time. We wish you all the best as you start on your journey in becoming a guitar master. Have fun!
Our Top Online Guitar Lesson Reviews
by Category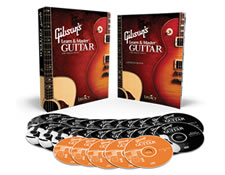 If you are looking for the best DVD guitar course that money can buy, your search is now officially over. Gibson's Learn and Master Guitar arrives on the scene as the most comprehensive video home-study course that has ever been introduced to the market to date.
As I went through this DVD course, I felt as if I had my own personal guitar instructor... but without the $50/hour bill and scheduling hassles. True, this course costs a little bit more than most of the other guitar lessons out there, but it's well worth the investment (and still only amounts to a fraction of what private lessons cost).
Learn and Master Guitar can take someone who doesn't know the first thing about the guitar or music for that matter, and turn them into excellent guitarists. The course covers everything you'd expect such as reading music and tablature, chords, strumming, fingering, picking, lead guitar soloing, theory, sliding, tapping, ear training and so much more!
Read Full Gibson's ® Learn and Master Guitar Review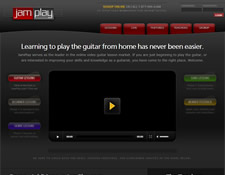 Jamplay
Rating: (Editor's Choice for Online Video Lessons)
Published By: Legacy Learning Systems, Multiple Teachers
Website: www.Jamplay.com
Pricing: $19.95 (click for exclusive coupons)
For Skill Levels: Beginner-Advanced, Kids
Product Website
Read Review
The best in it's category, Jamplay has firmly established itself as one of the top destinations for online video guitar lessons on the internet. Jamplay is an online guitar website that gives you unlimited access to almost 450 hours of high-quality video guitar lessons for an incredibly low price.
With Jamplay, you get access to many different guitar instructors that teach a wide variety of guitar styles, and do so in a very personable and professional manner. The lessons range in difficulty from easy to advanced, so this course works equally well with newbies as well as with experienced guitar players.
The amount of content on the site is simply staggering. We have never seen a guitar course that's put this much great video lessons together in one place. Thankfully, the site's content is extremely well organized so it's never a problem to find whatever video lessons you're looking for. Even with the monstrous lesson library Jamplay already has, they constantly add more video guitar lessons to their database. To get a feel for the quality of lessons Jamplay provides, we encourage you to check out a couple of their free video lessons available on...
Read Full Jamplay Review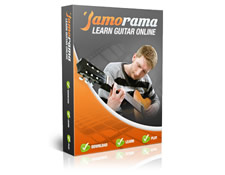 Jamorama
Rating: (Editor's Choice for Downloadable Guitar Lessons)
Published By: Rock Star Recipes, Ben Edwards
Website: www.Jamorama.com
Pricing: $39.95-49.95
For Skill Levels: Beginner, Kids
Product Website
Read Review
One of the most popular guitar lesson software available online, Jamorama has long been a great way to learn the guitar on your own at a reasonable price. Jamorama takes it slow and doesn't assume you have any prior knowledgeable about playing guitar, and is able to take you from a complete beginner to a competent intermediate guitar player.
Jamorama is currently available in two flavors. Jamorama Standard (which we review here) and Jamorama Deluxe. The main differences between the standard and deluxe versions are as follows: The standard version contains all the basic guitar lessons that focus on the essentials like strumming patterns, chords and beginner music theory. The deluxe package contains everything that the standard does, but adds what used to be their other guitar course, "Jamorama Lead Guitar" to the package. It's worth mentioning that you can always choose to upgrade your standard version to the deluxe version at a later time. The option to order the physical printed version of Jamorama seems to have been removed from their website.
The team over at Jamorama did a good job of creating an entry-level guitar learning product that's easy to use, contains thorough instruction, and is fun at the same time.
Read Full Jamorama Review
Guitar Reviews Summary
On the right side of this page is a complete listing of all the guitar lesson software reviews on our site. To date, we've reviewed 13 different online guitar learning programs. If there are other guitar or music lessons you want to look up, click here for more guitar lesson reviews.
Our Editor's Choices: Learn and Master Guitar is our top choice overall, as well as the best DVD guitar course on the market. We have never seen such a comprehensive guitar lesson package before. If you can't afford in-person guitar lessons because of the cost, you simply will not find a better solution than Learn and Master Guitar. True, it is more expensive than other guitar courses, but no other package is this comprehensive. Read our full Learn and Master Guitar Review for more details.
The popular Jamorama Guitar course on the other hand, came out on top in our low-cost category as well as our downloadable course category. It outperformed many higher-priced lessons such as the Speed Learning Guitar System and Gigajam . If you are on a budget or would like to get computer-based guitar lessons, this is your best bet.
When it comes to online-based video guitar lessons, Jamplay and Guitar Tricks have no other competition that comes close to what these sites offer. With these online video courses, you'll get unlimited access to hundreds of video guitar lessons and personal access to superb guitar instructors, and lots more. Some of these services even offer live guitar lessons via webcam.
Other Guitar Software Products:
We also reviewed 10 other guitar courses and software that didn't quite make our list of recommended guitar lessons. For the most part we weren't all that impressed with what other guitar courses out there offered. Many of the courses we ranked 5-13 noticeably lacked multimedia elements, were shoddily put together, and others were missing product guarantees which is very important, especially for downloadable products. We would advise you skip over these courses in favour of one of our editor's picks.
Recent Guitar Articles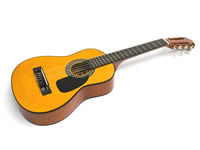 Online Lessons vs. Private Lessons
Discover some of the advantages of a do-it-yourself approach to learning guitar.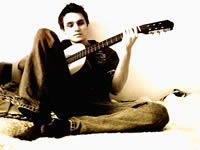 Basics of Learning Guitar
Steps prospective guitar students you may want to take when getting into guitar.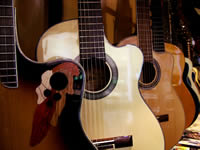 An Introduction to the Types of Guitar
Explains the differences in acoustic and electric guitar models.
Disclaimer Notice
As an independent, unbiased product review site, we take great pride in the integrity of our editorial reviews. In the interest of full disclosure we want our readers to know that we do receive review copies of all products and services we write about on this site. We also do receive commission on some, but not all product we review on this site. Please rest assured that we do not allow this to get in the way of our editorial process.
We also want to point out that we do not accept paid reviews as we wish to maintain an unbiased perspective. Finally, we do not have a personal interest in any of the products we've reviewed and are not owned by any company whose products appear on this site. Thank-you for reading!